Put your pub into a league of its own
According to the Irish Pool Association over 200,000 people in Ireland play pool on a regular basis and the pub is where most people play. The popularity of the sport is also growing for both males and females. Our pool tables are installed free of charge and on a profit-sharing basis, so why not get some of these punters into your pub and pot the profits!
---
Supreme Prince and Winner Pool Tables – Entertain to Retain!
Put your pub into a league of its own with The Supreme Range of Pool tables, exclusive to Automatic Amusements. Often selected as the main brand of choice for tournaments, these tables are elegant and modern, with superb accessories and brass light fittings. So why not give your pool room, the 'Eddie Felson' touch!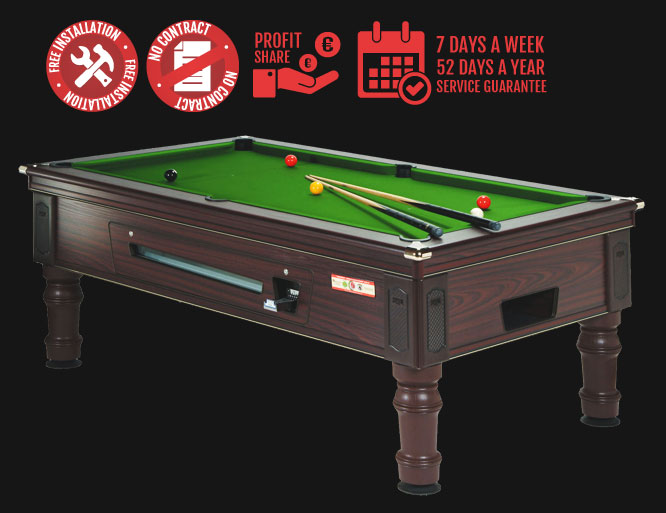 Product Features
Tables are free or charge and without a contract
Solid wooden framed construction
Quality slate beds
Both the Supreme Winner and Prince are portable units which can be put away to free up valuable space
Tournament grade wool/nylon blended cloth available in different colours and recovered up to twice a year
Free accessories to include balls, cues, cue rack, chalk, blackboard and brass canopy
Support for in-house tournaments with tournament sheets, presentation cues and sponsorship
Supreme Winner available in Black Ash finish
Supreme Prince available in Mahogany finish
Sizes available: 7'X4′ and 6′ X 3.5′
Each table comes with a trolley and cover
Comes with the Automatic Amusements 7 days a week service, 52 weeks a year, guarantee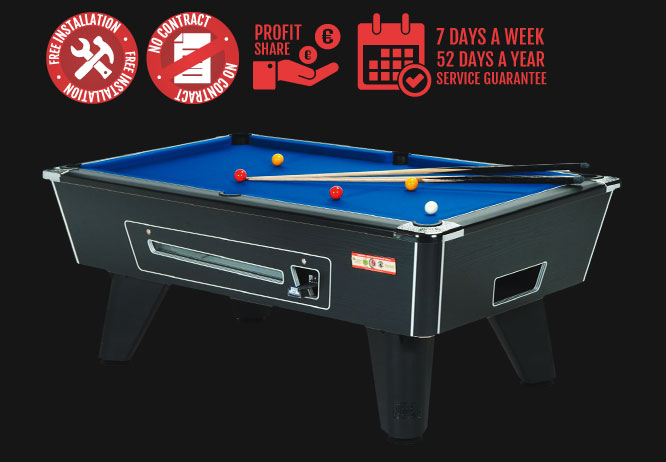 The Bison – American Style Pool Tables – Hipster Alert!
Our Bison American style pool tables offer a contemporary and chic look – the perfect solution for a casual game of pool for your young and achingly trendy clientele.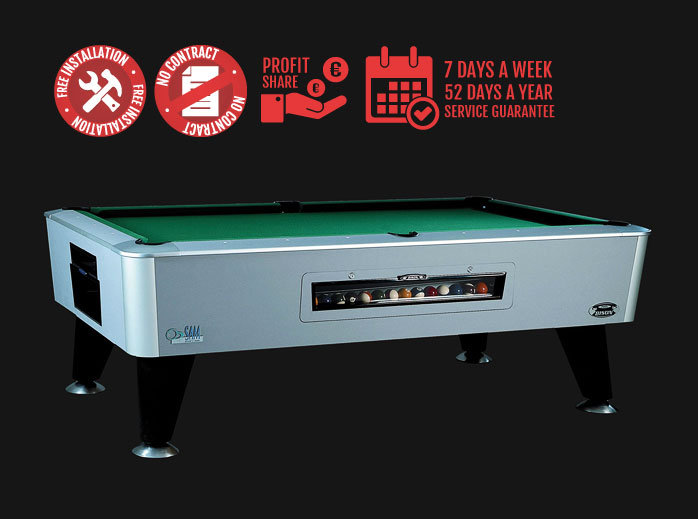 Product Features
Solid frame construction with aluminium finish
Aluminium rail with inlaid sights
Quality slate bed
Steel door for independent access to cash drawer and CPU
Tournament grade wool/nylon blended cloth
Cloth available in different colours to suit different locations and recovered up to twice a year free of charge
Support for in-house tournaments with tournament sheets, presentation cues and sponsorship
Free accessories to include balls, cues, chalk and board, and chrome canopy
Comes with the Automatic Amusements 7 days a week service, 52 weeks a year, guarantee
Pool Table Dimensions 32″ (H) x 49″ (W) x 92″ (L) Weight: 650lbs